CASE
TAO KAE NOI SEAWEED SNACK
''I like to eat seaweed and chestnut and that's why I am in this business. But you can't think just for today or tomorrow when doing business, you have to look much further than that,'' said 

 who founded a seaweed snack business, Tao 

 noi, in 2004 when he was only 19 years old. Tao kae noi headquarters is located on a small plot on the outskirts of Bangkok, Thailand. The machines to produce the snacks cost almost 10 million baht. He became a millionaire at a tender age when his trade volume reached 75 million baht in 2005. BRIEF COUNTRY BACKGROUND Known as Siam in the past, Thailand is in the center of Southeast Asia surrounded by Laos, Myanmar (Burma), Cambodia, and Malaysia. Thailand is about the size of France and its total population in 2009 was 66 million. As a tropical country its temperature ranges from 23C to 32C. Thailand's population is relatively homogeneous with Thais as the majority followed by Chinese and other ethnic groups. Chinese and other ethic groups have assimilated into the Thai culture although the Chinese are more likely to reside in urban areas and engage in business. Thais are predominantly Buddhists. The country is comprised of 76 provinces divided into 4 regions: Central, North, Northeast, and South. Situated in the Central region, Bangkok is the capital city and is the center of political, commercial, industrial and financial activities. The unit of currency is the baht at 33 baht per U.S. dollar. BACKGROUND OF THE ENTREPRISE AND THE ENTREPRENEUR Tao 


 was established in 2004 by 

 Kulapngvanich. His initial capital came from trading characters and points earned from playing on-line games. He dropped out during his freshmen year in a private university to start a business. He invested part of his money into selling the first product—baked ready-to-eat Chinese chestnuts—targeting women who did not want to get their hands dirty cracking the chestnut shells. Previously, the only place for people to get Chinese chestnuts was Chinatown. His franchise was located in department stores convenient for the customers. He named this new venture ''Tao 

 noi'' or ''Young Boss'' because his father teased him that his son was going to be a boss. Within a little over more than a year, the business had expanded to more than 30 units. In addition to baked chestnuts, 

 tried to add other product lines, including pickled plums, dried fruit, and fried seaweed to be sold at his outlets. Since the revenue from selling fried seaweed exceeded that of other products, including chestnuts, his business interest turned to the fried seaweed snack. However, expanding the snack business turned out to be harder than he anticipated. 

 was turned down by several outlets, including the 7-Eleven convenience store chain, because of the snack's unattractive packages and its short shelf life. After studying packages of potato chip brands of international firms, he launched a modern attractive package based on a Japanese-style design. In addition to the health appeal due to low calories and high nutrition, the product was positioned as cute and friendly with an attractive logo of a playful cartoon character of a Chinese boy in traditional Chinese garb. In 2004, the 7-Eleven convenience chain, the largest outlet for snack items, accepted Tao 


 into the store. 

 expanded his production capacity rapidly to serve the huge demand generated from selling at the stores. Due to his youth and lack of experience, no bank would lend him money for this expansion. Therefore, he had to sell his baked chestnut franchise to finance a new factory. Obtaining initial access to the convenience stores seemed to be easier than keeping his snack on the shelf since the stores would drop any products if their sales volume did not meet expectations. To stimulate initial product trial, Tao 


 used a low price strategy of 10 baht (about 35 cents) per unit and allocated 40 percent of total output as free samples distributed at schools, universities, and BTS Sky Trains stations for three months. This tactic turned out to be successful as seen when the sales of his snack at the convenience stores increased dramatically. (See Exhibit 1). Eventually, his snack was distributed in all major convenience stores and modern trade outlets throughout Thailand. PRODUCT LINE Tao kae noi seaweed snack is made of seaweed imported from Korea and is processed using modern production systems similar to those of global brands. The company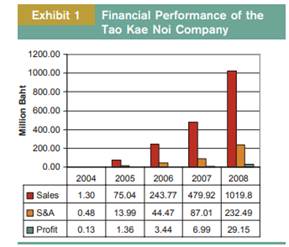 was awarded with ISO 9001, GMP, and HACCP in recognition of its quality. Seaweeds contain fiber, protein, iron, and calcium, making it suitable for positioning the snack as a healthy choice. The original product line of Tao 


 fried seaweed has four flavors—classic, hot and spicy, wasabi, and shrimp soup. The hot and spicy and wasabi varieties are for those customers who prefer a salty and intense flavor. The original product line aims at the youth market covering 15 to 25-year 

 of both genders. The tempura line is for students in the age range of 4 to 17 years. The spicy shrimp soup variety is for the export market because the soup is well-known to those who prefer Thai food. The ''Curve'' seaweed was introduced in 2008 to meet the needs of female consumers 18 to 28 years old, who were health conscious and concerned about their weight. It uses premium grade seaweed 

 Nori, which is processed in thin sheets that melt quickly when eaten, contains only 15 calories, and has a high fiber content. Brand building is important to Tao 


. Working with Ogilvy & Mather in creating its distinctive brand story and DKSH in distributing the snack, had helped the company to develop a competitive edge over its competitors. The company has invested a large sum of its earnings on this long-term investment (see Exhibit 2).
THE SNACK MARKET IN THAILAND
Thailand's snack foods market is one of the largest and most diverse in the Asia-Pacific region, with an estimated total value of 21.8 billion baht in 2009 and more than 2,000 competing brands. The industry growth rate in 2009 was 7 percent in value. Main customers are children and teenagers who want to try new snacks. Although there are many varieties of snacks, extruded snack and potato chips account for over 65 percent of the total market. The competition is intense because new products and operators have entered the market. Typically an excessive promotional budget brings a spurt in market share but does not gain customer loyalty. Frito-Lay Thailand Co. Ltd, the manufacturer of Lay's, 

, Doritos, 

, and Cheetos, maintained its leadership in 2008 with a 27 percent share of retail value sales. However, the increased awareness of health and wellness trends among Thai consumers helps perceived healthier snacks such as seaweed, fish, fruit, and nuts to grow faster than other fried processed snacks. Seaweed snacks accounted for 900 million baht in 2008 with an annual growth rate of 50 to 60 percent. In this market, fried seaweed snacks represented 60 percent, tempura 25 percent, and baked seaweed 15 percent. Tao 


 controlled about 84 percent of the fried seaweed segment, 52 percent of the tempura segment, and 30 percent of the baked seaweed segment. The success of Tao kae noi has brought several competitors who imitated its strategy. The names of competing brands purport to be of the same corporate family e.g., Tao Kae 

 (Woman Boss), Tee Leek (Younger Brother). Other competing brands such as 

, 

, Yuki, 

, Slimi, and Khun Film also employ similar strategies as Tao 


 in positioning the product as a Japanese-style seaweed snack appealing to young consumers. Only 

 was a real challenge to Tao 


 since it has been on the market long before the entrance of Tao kae noi and is backed up by a large conglomerate. 

 has invested in continuous marketing campaigns in an attempt to replace Tao kae noi as number one in the market. Tob welcomes the competition in the market in order to keep his staff from being complacent. At the same time, the advertising activities of competitors maintains the public interest in seaweed snacks. (See Exhibit 3.) FIRST STEP IN EXPORTING After noticing a large volume purchase from a buyer, Tob found that the snack was shipped to Singapore. Having never been to the country, he bought a package tour and went with his parents. While in Singapore, he and his sister did not join the group tour but visited open trade markets where he was informed that his snack was sold. He found only one store that prominently displayed his products. There the owner told him that Tao kae noi sold well but was often out-of-stock. Returning to his hotel, he was encouraged to see that the Singaporean consumers with a high disposable income could afford Tao kae noi seaweed at 80 baht per pack while it was sold in Thailand at only 30 baht.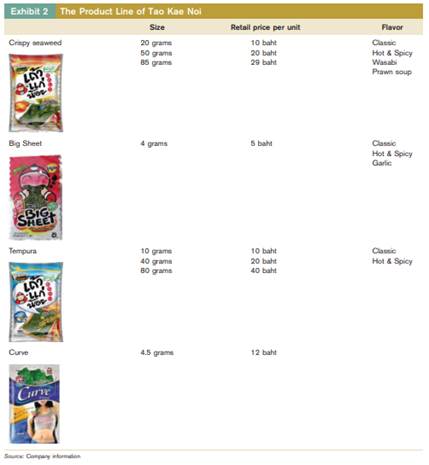 Setting up a trading company in Singapore was out of reach since his business in Thailand was growing rapidly and consumed most of his time and effort. He needed a trader to open the Singaporean market. Finding potential trading partners through trade shows was impractical since the desired trade show was scheduled for the next year. By then, he realized that his product might have fallen out favor or the competitors might already have entered the market. Thus, he went back to Singapore to observe different retail outlets. After several days and several attempts in making appointments with buyers of large retail stores, he had a meeting with a purchaser of the 7-Eleven convenience chain, but was told that regulations in Singapore prohibited manufacturers from dealing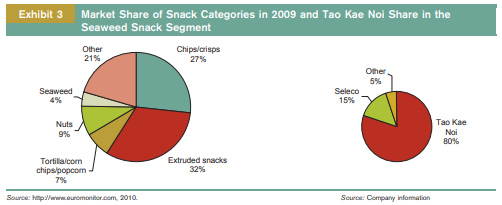 directly with retailers. After receiving the list of potential distributors from the outlet, he contacted them and sent product samples. Unfortunately, none paid attention to his business proposal. Undeterred, Tob went to large supermarkets in Singapore in a search for imported snacks. At that time, he found names and addresses of local distributors printed on the packages. Again he called them up and sent them his product sample. Despite the fact that he presented them with information about his product success in Thailand and Singapore, none were receptive. Only San SeSan Global, a smaller distributor, showed some interest in discussions with him. They were a good match in their long-term orientation toward brand building. Both worked together in adapting the snack to meet the local need. Initially the label was in Thai, which Singaporeans did not understand, and so the package had to use both Chinese and English. The Singaporean market preferred tomato sauce flavor and a more mild flavor. It took Tao kae noi almost nine months to adjust its snack to meet the need of this new market. The trader conducted several field tests before launching a six-month marketing blitz. (See Exhibit 4.) The snack was positioned as healthy food for a modern lifestyle. Both Japanese and Chinese seaweed snacks were available in the Singaporean market. However, Japanese brands were too expensive while Chinese brands were cheaper but of inferior quality. By positioning Tao 

 in an affordable price range but with high quality and catering better to the local taste, the snack was well accepted by Singaporean consumers. This well-planned effort had helped Tao 

 to become a mainstay on convenience store shelves all over the island. Two years after it was launched, Tao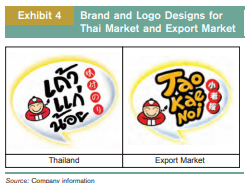 was displayed in the front of many shops. Tao kae noi and its trader were willing to invest in outlets to control the best product display area. Running an island-wide contest led people to buy the products, so retailers had to put them up front. Crediting the entry success to his collaboration with his trader, Tob also believed that a superior product was a key factor and that brand building helped to differentiate his brands from others. 

 stressed that ''The product must have a story to tell, not just the tangible product itself. Consumers will appreciate the effort that we put in making this snack.''
EXPORT EXPANSION
After the initial success in Singapore, Tob had realized the vast opportunity in the export market. The market was more lucrative and payment was more rapid because  buyers sent him a letter of credit before he shipped out the order. By comparison, in Thailand he had to wait to receive payments and had to follow the strict guidelines of large retail operators. Thus, when a relative, who was a trader sending Thai food items to Hong Kong, approached him in 2006 to export his snack to Hong Kong, Tob was delighted. After sending a few boxes, orders expanded rapidly and Tob went to Hong Kong to investigate the market. Similar to Singapore, the snack was sold in only one traditional retail shop and was not available in the main stream market. He employed the same technique in searching and screening local representatives. After finding one trader matching his criteria, they developed a marketing plan to launch the snack in Hong Kong. Finding traders in Hong Kong was easier than in Singapore. The sales volume in Thailand had reached over 200 million baht within three years. That success, combined with the initial market entry in Singapore had convinced several Hong Kong traders to be interested in representing his snack. After he selected one of the traders, the others approached his competitors in Thailand. However, the competing Thai companies were more concerned with making an immediate profit and, therefore, were not interested in cooperating with traders in investing in brand building. Hong Kong has turned out to be the largest export market for Tao 


 because it is also served as a gateway to China. After entering the Hong Kong market, Tao 


 has expanded its exports to countries in Asia Pacific including Indonesia, Philippines, Taiwan, Malaysia, and Brunei. Eventually, the snack was sold in the United States, Canada, and England. Currently, the company relies on trade shows to meet potential partners since it is more cost effective than visiting individual countries. During a trade show in Hong Kong, for instance, Tao 


 was able to meet with buyers from all over the world. Tao 

 snack is now available in 16 countries, and accounts for 30 percent of the company's total revenue. Hong Kong is its largest market, accounting for 25 percent of its export revenue, followed by Singapore (15 percent), and Taiwan and Indonesia (5 percent each). After exporting for a few years, 

 realizes that Asian consumers are more receptive to his snack now that they are more familiar with having seaweed as an ingredient in foods and snacks. Even when the snack is distributed in the United States, Canada, and England, the main buyers are still Asians residing in these countries. Thus the company plans to concentrate on the Asian market, especially China where the sales volume is well below its market potential. The Chinese market, particularly Shanghai, generates higher profit than selling in Thailand because the price in this market is double that in Thailand. The company has worked with DKSH in distributing Tao 

 in Hong Kong and planning its market expansion in China.
CHALLENGES IN THE INTERNATIONAL MARKET Even though exporting was viable for Tao 

, 

 faced numerous obstacles. When starting to enter into Singapore, his company spent nine months to adapt the snack to meet the local needs and so did not earn any revenue from this market. Furthermore it had to invest heavily in introducing the brand to Singaporean consumers. If he had borrowed from a bank, it would have reduced his chance at success since it would have taken a long time to get a loan approved. Uncertainties in venturing into exporting for the first time and the risk of failure were serious concerns. 

 wished that the Thai government could alleviate the financial risk and provide consultation from specialists who could cater specifically to his needs. Moreover, the country image being reflected in ''Made in Thailand'' signified to many buyers inferior quality compared to products from other countries. If the government invested in promoting a positive country image, his task would be easier and his bargaining power would be higher since foreign traders would seek out Thai products. With his current success in exporting, 

 no longer has problems with financing the company's export activities. The exchange rate fluctuation does not affect him very much, because a stronger baht reduces his cost of seaweed imports. On the other hand, since his price quoted to foreign buyers is in baht, any currency depreciation has no impact on his revenue. However 

 is facing other problems. Exporting to more countries requires his company's ability to adapt to diverse needs and regulations. For instance, Japan has restrictive rules for imported food. One lot of Tao 

 snack being shipped to Japan contained a food color that was prohibited by the Japanese government. The Japanese custom informed him that the product would be destroyed or shipped back to Thailand. Deciding to send the snack back to Thailand incurred additional and unnecessary costs. Another difficulty occurred when dealing with a Chinese trader. The trader did not follow the distribution and marketing rules initially agreed upon, causing some friction in their relationship. 

 believes that this conflict resulted from different business cultures. The most difficult task facing him now is how to penetrate the Chinese market successfully. Tao 

 snacks can reach only a small fraction of the market because due to import duties of 30 percent, his retail price was higher than that of goods produced in China since foreigners cannot solely own a factory. 

 would have to form a join investment with a Chinese partner, leading to his loss of control. Finding a suitable partner is also rather difficult because he wants a partner interested in long-term success. Doing so will not generate immediate large profits because much capital will have to be invested in brand building. In addition, setting up a factory in China is a very complicated process; each province has its own set of regulations in addition to those from the central government. Many Thai manufacturers have failed after building operations in China, which deters others from such a venture. Unlike the Japanese government, the Thai government has not negotiated with the Chinese government to reduce this complexity. Moreover if Tao 

 brand is well-known in the Chinese market, 

 fears that the brand will be counterfeited.
BACK TO THE CLASSROOM While busy managing his business, 

 has been back to a private university to pursue his BA in business administration and, even more important, to take subjects that will help him run his business successfully. He is an avid reader. In addition to reading textbooks in management, finance, and marketing, studies of business success and failure provide valuable lessons. University life teaches him social skills which are essential in business dealings. At age 24, 

 still has big dreams ahead of him. He wants to build his business into a multinational snack company.
Questions for Discussion
1. What does it take to make a new small business a successful exporter? Is it important to be successful in the domestic market before expanding overseas? Discuss the importance of brand building even in the early stage of exporting.
2. Which type of market expansion did Tao 


 use in exporting? Discuss the appropriateness of market diversification versus concentration on expanding a company's export markets. What conditions are suitable for these options?
3. In order for a government to encourage more young entrepreneurs to export, how should the government set up its export program? How should the assistance services from the government be reflecting different stages in exporting?